Your indoor spaces in your home are an extension of your own personality and style, and as so, it should be something you choose to be beautiful and also to satisfy all of your needs. Windows are often overlooked when it comes to home design, but they have the power to make a significant impact on the look and feel of a room. There are many creative window treatment ideas that can help you transform your space. Read on to learn more about the different types of window treatments and discover creative window treatment ideas for your space.
What Are Window Treatments?
If you are considering new window treatments for your home, you will notice there is an immense amount of different types of custom window treatments in Boston. Some items are considered soft treatments because they are made from soft fabrics, while others are considered hard window treatments, such as blinds and shutters that can be metallic, wood, or faux wood.
Types of Window Treatments
Before listing off creative window treatment ideas, you should first identify different types of window treatments. There are five main categories of window shading products for residential use: blinds, shades, shutters, drapery, and valances. Each has its own distinct properties and applications.
Window blinds are one of the most commonly used items for window shading solutions because they are inexpensive, and you can use them in any and all windows of your home. Modern blinds come in many different finishes, and you have a choice of the original horizontal mini blinds or beautiful fabric vertical blinds that are perfect for large windows and doors. Fabric blinds can be light filtering to room darkening and everywhere in between to suit your lighting control needs.
Modern precious metal blinds are available in sleek aluminum, which is perfect for high-traffic areas of your home. You can choose from over 70 different finishes.
Wood and faux wood blinds give your interior spaces a warm and cozy feel to them. They may be stained or painted in any color you wish to match your decor, and they are quite sturdy as well. Choose richly stained wood blinds and faux wood blinds for areas that are humid and hot, such as bathrooms and kitchens.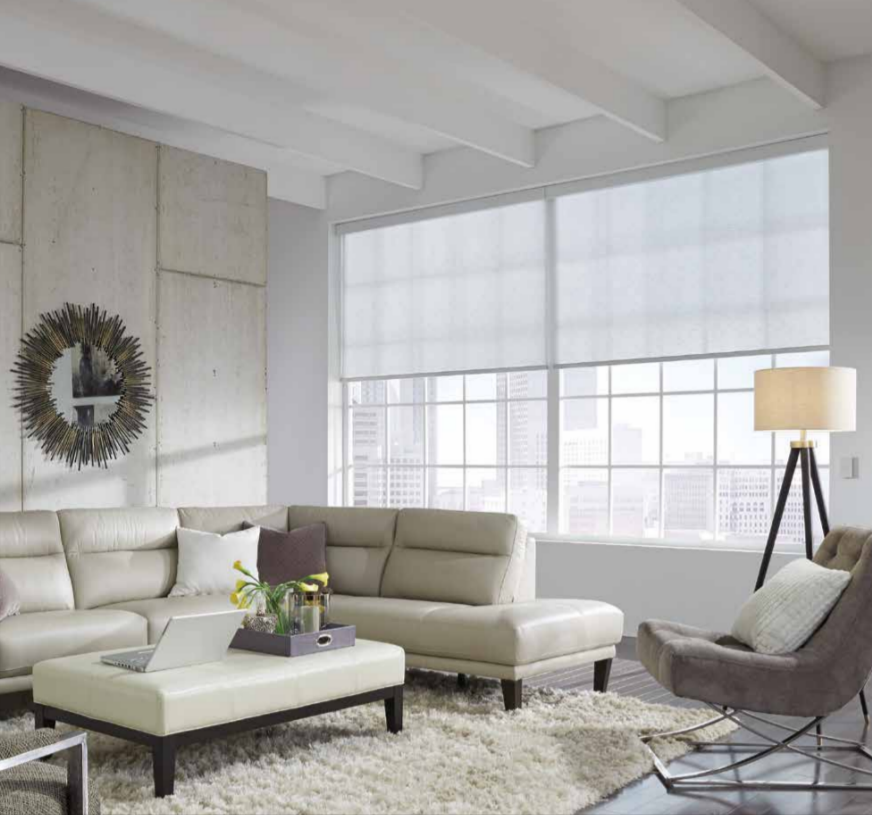 Shades come in many different styles from which to choose. Roller shades are made of fabric and are highly customizable with different thicknesses, colors, patterns, and textures. Designer roller shades are made specially to eliminate lighting gaps on the sides of them.
Banded shades include two different fabrics that alternate with each other in horizontal strips. One fabric is sheer, and the other is solid, so you can adjust them to be all solid for privacy, or all sheer for filtered lighting or a combination of both.
Roman shades add a touch of elegance to any window, and cellular shades are loved for their high rating of energy efficiency.
You can never go wrong with real solid wood shutters for a timeless and classic appearance. These can also be painted or stained in whatever color you desire.
You can also choose from shutters at a lower price point for humid areas with faux wood, composite, and vinyl shutters for your home.
Many shutter styles are available to you also, such as cute and quaint cafe-style shutters that only cover the bottom half of a window and leave the top open for some natural lighting. Tier-on-tier shutters include a set of shutter panels on the top of a window and an additional set on the bottom of the window. This configuration allows you to operate each half independently of the other for the ultimate in lighting control.
Choosing fabric drapery gives you the most options available. You can choose the fabric weight from light and lacey to filter light or more luxurious and thicker fabrics to be room darkening, give you privacy, and insulate your windows.
Drapery has so many applications from sheer panels to dramatic luxurious drapery panels, and side panels for a decorative appearance.
Choose any style you wish from something sleek and simple, to bright and cheery to use as a focal point in your interior spaces.
Valances are a soft window treatment used as a topper at the top of a window. You can use only a valance as a stand-alone product for windows that don't get much light in them, or you can add them to any other hard or soft window treatment for the second layer in layering window treatments. There are an immense amount of window treatments and services utilizing valances for your home.
7 Creative Window Treatment Ideas
When you are choosing new window treatments, your windows are a blank canvas in which you can decorate them in any manner you wish. The only rule is there are no rules, so feel free to express yourself! Here are 7 creative window treatment ideas to help breathe new life into your space:
Color and Texture Options​
In every single type of window treatment, you can choose from a multitude of different colors and patterns. Some blinds and shades have options of textures in them along with several colors and color combinations. Adding a textured fabric or product of any type to your windows creates interest and depth.
Choosing the Right Fabric for Your Windows​
One of your biggest decisions in choosing custom window treatments is to decide on the fabric for each room of your home. You can choose different fabrics for all of your soft treatments. Choose a solid and neutral color if you want your windows to be understated and blend in with their surroundings, or choose a thicker fabric with a colorful print to be noticed in any room.
Your window coverings should attend to your lighting needs. For rooms that don't get a lot of sunlight and heat in them, you can choose a light-filtering fabric, a valance, or a cafe shutter to block some of the light in a portion of your window while still having natural daylight stream in.
Natural Light Control With Window Treatments
Natural daylight can help your home to be a bit warmer in the winter months, so it's more energy efficient, and you use less heating to stay comfortable. In cooler months, open your window treatments to benefit from this, and in warmer months close your window treatments to keep your home cooler.
Adding Accents with Trim and Embellishments
One great idea to dress your windows includes using fabric in a solid color. Then you can add decorate fabric tapes to it for accents in a coordinating color. This works well on drapery, and roller shades, as well as Roman shades and woven wood shades. You can also make a statement by simply having the bottom hemline in a scallop instead of just straight across horizontally to add some style to your window coverings.
Try Palladiom Shades by Lutron
For the ultimate in beauty and exquisite workmanship, you can try Palladiom shades by Lutron. They are extremely streamlined, fit with any decor you have, and are motorized for your convenience in your Smart home. Just the touch of a button will open, close, and adjust your shades, and you can set scenes with other Smart items in your home as well.
Finding Inspiration for Your Creative Window Treatment Ideas
You can find inspiration online from many sources to get great ideas to inspire you for your window treatments. Pinterest is a good place to look for creative window treatment ideas, as well as House Beautiful, Houzz and HGTV. Any items that you like can be recreated by a professional window treatment company and you can mix and match ideas and colors to make your products truly your own.
Creative window treatment ideas can play a major role in transforming your living space. You can dress your windows up, or dress them down, or anywhere in between. By using items that blend in with your surroundings, your other aesthetics in the room can take center stage. If your room is basically monochromatic, you will likely choose window coverings with some color in them to dress them up. No matter what you are looking for, or if you aren't sure what you want, our experienced designers at Integrated Upright Services offer you a FREE in-home consultation to give you many different choices from which to choose. Contact us today to schedule an appointment and see what we can design for your creative window treatments together!